Three Minute Overview Video
We're bringing you changes on how to create new cells, configure settings and inputs, organize your canvas, and execute your flows.
Watch me to get a quick overview of the changes, or skip me and read all about our changes below!
Creating Cells (Python, SQL, or No Code)
We've simplified cell creation, and now you can add that next Python cell, table preview, or any other cell in just one click.

You can also now select the cell type you want to create in the toolbar, and simply draw the cell onto the canvas.
Executing Flows
Simply use the "Run Flow" button, or Ctrl/Cmd-Shift-Enter to run all cells before a given one to quickly refresh the entire chain.
Any cells with unrun changes are highlighted in yellow on the side panel, and on the cell itself.

Settings and Inputs
Configure the canvas-level Python settings using the right-hand side options panel. This includes Python version, requirements, and secrets.
You will also find the options to configure cells in the panel as well - for instance, which variables go on chart axes and how to color the resulting bars.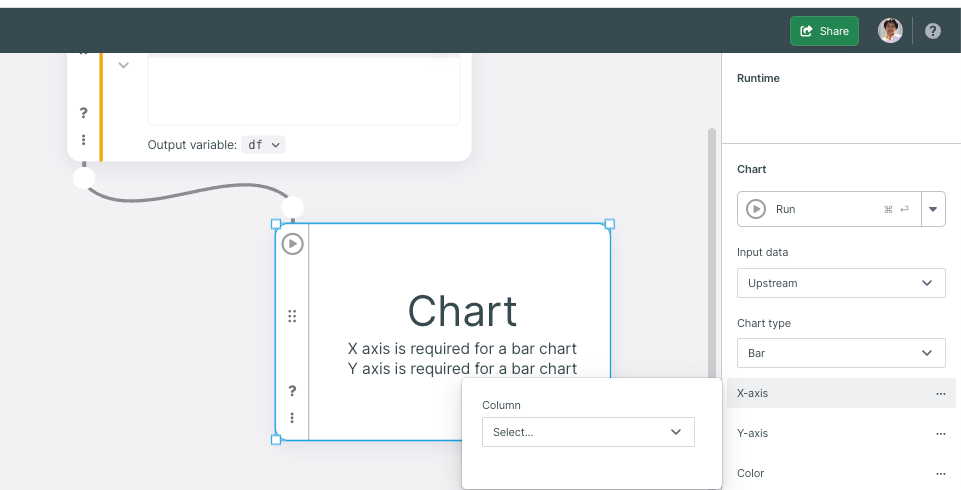 Canvas Organization
Objects on the canvas are now displayed in the left-hand panel. You can search for code within cells by searching on this left sidebar. Double-click to zoom and focus on the cell you are interested in.
You can also right-click on the cell to find additional options including: rename, delete, duplicate, and possibly most importantly, create automatically scheduled runs.
You'll also find enhanced data zones, which you can draw onto the canvas. Moving a data zone by grabbing the left side will also move all objects within the data zone.